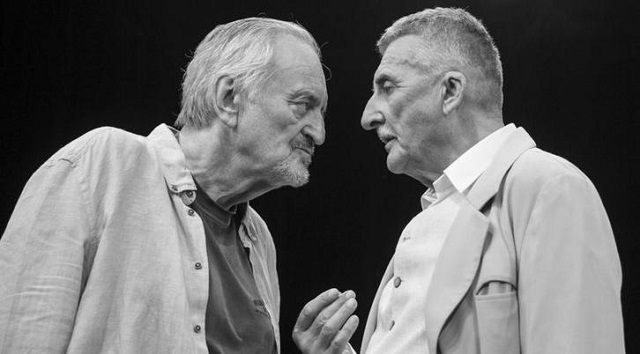 Ararat to support theater arts once again on the premises of the Štúdio L+S.
The new fall season will provide art as well as exceptional brandy lovers with a unique experience once again they certainly don't want to miss.
Ararat, the legendary Armenian brandy has long been associated with the support of art and extraordinary talents. Not only does it apply to its birthplace, Armenia, but also to other parts of the world. The last season saw Ararat enter a partnership with Štúdio L+S, cooperation we are eagerly looking forward to this year, too.
"True quality is always verified by time.  Even though our cooperation with Štúdio L+S is still young, we are more than happy to provide support to such an evergreen amongst the Slovak theaters. In all those years the stage has brought up a great deal of theater stars and we, at Ararat certainly do appreciate everything that develops to perfection throughout the course of time. Our latest TV campaign is dedicated to proposing a toast to all those who make our lives more fulfilling. And honestly, I currently can't think of any other theater that brought more joy to everyone in the last couple of years as far as theater goes, than Štúdio L+S," Matúš Kollár, the Ararat Brand Manager shared his thoughts.
A mellow blend of Ararat and theater
You are more than welcome to enjoy a plethora of stunning shows from as early as the 11th September ranging from Môj dobrý kamarát (My Best Friend), Tri grácie z umakartu (The Three Graces made of Formica), Skaza Titaniku (The Demise of the Titanic) and Život na trikrát (Life three times). Indulge yourself in the remarkable performance of Slovak actors such as Emília Vášáryová, Milan Lasica, Marián Labuda and Marta Sládečková just to name a few.                                              
Pavol Danišovič, the CEO of Štúdio L+S has also expressed satisfaction with the partnership: "We consider ourselves lucky to have the partners; we currently have, especially if they share the same values and have the same mindset as we do. Only after a year of cooperation with Ararat has proven us that this was a step in the right direction, we certainly are on the same wavelength. Any theater goer that has had the chance to taste this brandy can attest to that, it is one of the most sought after beverages in our café. And truth be told, our staff couldn't resist it either, needless to say, after the show only," he added mysteriously smiling.
The icing on the cake in addition to the experience brought to you by the show itself is the Ararat brandy with its smooth taste reminiscent of the mellow hint of honey and nuts and the refreshing aroma of various fruits and plants. After all, it was not considered the drink of Gods in its birthplace, Armenia for nothing.
This Armenian national treasure is produced by the Yerevan Brandy Company using traditional processing dating back as early as 1887. Its taste has truly stood the test of time – it has been enjoyed by people like Agatha Christie and Winston Churchill. You do not want to miss out on the very best Ararat can offer, such as the Akhtamar aged 10 years, Nairi aged 20 years, the extraordinary Dvin or Erebuni aged 30 years.