Ana Berishvili
Managing Director
Ana Berishvili joined the Pernod Ricard Group in 2004 and in 2008 she was appointed operations director of the Georgian Wines & Spirits company in Georgia. In 2012, she relocated to Armenia to the position of Industrial Director of Yerevan Brand Company, and five years later she became the Managing Director of the company. From this post she moved to Prague in spring 2021 and took over the management of the Czech and Slovak branches of Pernod Ricard. Ana holds degrees in law and public administration.
Tomáš Huba
Head of Sales
Tomáš Huba was born in Slovakia in 1977. He studied Commercial management at the Slovak University of Agriculture in Nitra. He joined Pernod Ricard in 2005 as a sales representative for the on-trade segment, and since then has held various positions in the company. He became Pernod Ricard Head of Sales in July 2013.
Petr Polák
Marketing Director
Petr Polak was born in 1976 in Prague. He started his career as a marketer at McCann-Erickson.  After that he continued in marketing positions on the client's side in Plzeňský Prazdroj (SABMiller), Brown-Forman and Preciosa.  He has been in the position of Marketing Manager of Imported Brands in our company since Christmas 2015.
Craig Van der Zee
Finance Director
Craig Van der Zee was born in 1978 and has more than 20 years of experience in the field of finance, including 15 years directly within the Pernod Ricard group. Craig is responsible for overseeing the financial and logistic functions for Jan Becher Pernod Ricard and Pernod Ricard Slovakia, managing strategy and operational efficiency, and is also a member of the management committee. He previously worked in various Pernod Ricard affiliates, most recently with Pernod Ricard Eastern Africa as the Head of Finance also overseeing the Supply Chain department.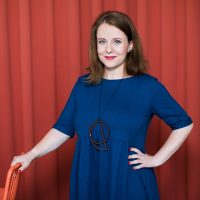 Alexandra Korman
HR manager
Alexandra Korman was born in 1987 in Lviv, Ukraine and has lived in Prague since 2000. She has been with Jan Becher since March 2017, starting as a Compensation & Benefit Manager. In November 2020 she was appointed an HR manager, and in July 2021 she expanded her responsibilities for human resources at Pernod Ricard Slovakia.