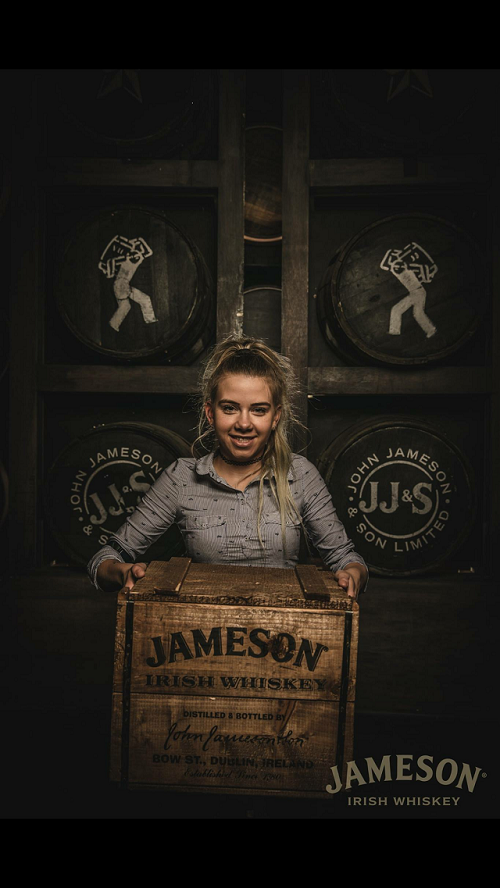 The winner of this year's Jameson Barrelmen"s Homecoming Feast has become a Slovak bartendress.
At the end of June 2017 the world of bartenders learnt some great news – the first prize at the global finale of this highly prestigious competition went to a young Slovak bartendress, Barbora Tapušíková who has been working as a professional bartender for barely a year.
The global bartender competition takes place every year right in the Midleton Distillery in Ireland. The winners of each global national round from 30 countries from all over the world have gathered directly in John Jameson's home this year, too to show off with their skills to the jury in an effort to mix their own original Jameson cocktail within a 3-minute timeframe. The primary attributes to assess were the taste of the drink, presentation and the personality of the bartender. 
Our country has been represented by Barbora Tapušíková currently working at the Urban House Bar 'n Grill in Bratislava. Her drink mysteriously carries the name 14th November. The mystery ends right here. This very day is the International day of pickles and pickles brine is listed as one of the ingredients Barbora used to create her cocktail. Let's take a look at the other ingredients real quick – obviously Jameson whiskey, a beer-rosemary syrup, linden tea and celery bitter. How did Barbora dream up such a truly impressive combination, you may wonder? Well, she revealed that she totally loved Jameson and beer, so she figured that adding her favourite rosemary and celery bitter strongly reminded her of stalk celery which she enjoys chewing on at work. Further on she added some linden as a tea infusion, with linden tree being a typical plant in both Slovakia and Ireland. The final recipe was ready now virtually in one fell swoop and Barbora instantly got a sense that something exceptional and unprecedented had been created.                                                                                        
The professional jury made up of Billy Leighton (Master Blender at Jameson whiskey), an amazing bartender of globally appreciated caliber; Oisín Davis, the ambassador of cocktails and Irish drinking as well as last year's winner  Kazuhisa Arai of Japan. The jurors tasted all 30 drinks and their related stories. After a short while the decision was made and the seven best contestants such as Spain, Slovakia, Italy, USA, Brazil, Poland and Japan made it to the finale.                                          
Witnessed by all guests and participants the superfinale followed shortly. A number of contestants got their drink off the ground by giving a grandiose, shall we say, colossal performance well rehearsed in advance complemented by a colorfully compelling and unprecedented presentation. Barbora made her appearance to the grand jury with a shot of Jameson, ingredients, a shaker, a glass and a black bar napkin that carried her cocktail, 14th November. She used tiny pickled onions as garnish.
The jury voted unanimously and without reservations in her favor. 
So Barbora Tapušíková has been awarded the first prize in the global Jameson Barrelmen's Homecoming 2017 competition and is the proud owner of a cutting edge metal statuette of a historic barrelman – undoubtedly a remarkable award. Last but not least she did experience various sides of Ireland including the inspiring visit of the Midleton Distillery where all finalists had the chance to pick up a few tricks of the trade and all the nooks and crannies of producing Jameson, the Irish whiskey. Get-together and parties, as well as the authentic atmosphere of the competition itself were also awesome, experiences available exclusively at Jameson. All these extraordinary moments will serve as a strong motivation for Barbora on her carreerpath. 
"Well, Jameson Irish Whiskey is not to be taken seriously and that's great about it. It does not require dramatic performance, meticulous technique with all the kinks worked out with a bar stirring spoon and sure as hell, it does not need a perfectly ironed collar on a bartender's shirt. If a couple of ice cubes meant to be in the shaker, end up on the bar countertop, well, that's not the end of the world either. Ťapka (as she is oftentimes referred to) attended the competition in a hoodie with a hamster in her hands. 10 minutes prior to the finale, we enjoyed playing ping-pong and listening to a band rehearsal getting ready for an evening gig while some contestants were pulling out all the stops to make their presentation as perfect as humanly possible. I am absolutely convinced that her down-to-earth and chilled approach found its way to the jury and her drink. After all a drink's mission is to bring joy, so why not have a blast without being uptight even during the preparation? A bartender is a human being and not a programmed machine after all," Viktor Miško, the Jameson Irish whiskey Ambassador in Slovakia who was kind enough to guide Barbora during her visit in Ireland, putting in his two cents.
Barbora has been a professional bartender for 12 short months only, however what she lacks in experience, she makes up for in effort put into learning new skills. She started as a waitress and worked her way up to a bartender under her brother, Dominik's supervision (of Sky Bar) being her first mentor. Prior to her participation in the Jameson Barrelmen's Homecoming 2017, she has already tried herself out in a number of competitions in Slovakia. Her international success did make the whole bartending community in Slovakia a happy camper.                                                                         
A modest, hard-working girl with a smile on her face is now a remarkable bartendress as well as an embodiment of everything the Jameson brand stands for.