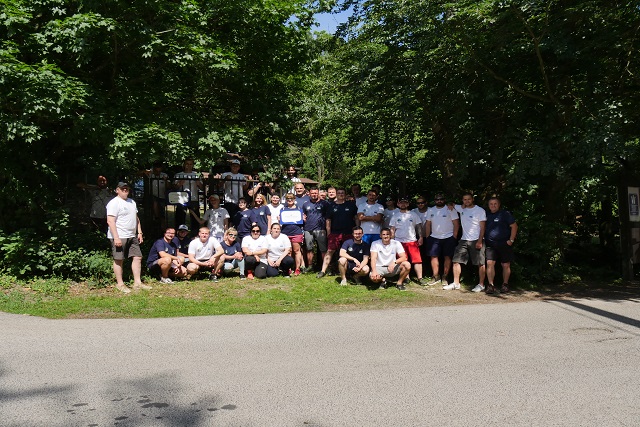 Pernod Ricard has been celebrating Responsib´ALL Day all around the world for the seventh time. Whereas in the first couple of years the event focused primarily on the agenda of social responsibility regarding the responsible consumption of alcoholic beverages, the company is now going all out to support local communities, developing neighborhoods and the environment we are all so fond of. All transpiring under the tagline – Live together, better! After last year's makeover of Železná Studnička, this year our staffers are getting started on laying the groundwork for the new Arboretum near Kamzík.
Responsib´ALL Day, celebrated each and every year on a regular basis by the company Pernod Ricard, was again all about the responsible approach to teamwork. On this very day all its 18 500 employees across the world put their noses to the grindstone to contribute one way or another to local communities and the environment in their vicinity through their various projects. Their effort is crowned with developing neighborhoods serving all in a beneficial way for as long as possible.
This year Pernod Ricard Slovakia employees have picked the vicinity of the road leading to Kamzík to renew, located close by the bar 'n grill  Horná stanica. They spent all day long on 1st June cleaning, raking, uprooting weed and logging with a clear vision resulting from their hard work – this is the very place where the new arboretum is going to be built and landscaping the area is the essential groundwork to be laid, inevitable to get this project off the ground.
"We are more than happy to contribute, even just a little bit to rehabbing this place which will benefit the local community as well as the wide public. We are absolutely looking forward to seeing this new arboretum stand and are confident that it is going to bring some quality time and fun to whoever visits it. I am so proud of all the effort our team has put in this project as well as of all our co-workers all around the world who went the extra mile supporting a good case through their priceless ideas and action this year under the tagline – Live together, better," as Erik Čížek, the Managing Director of Pernod Ricard Slovakia summed up the results of this year's Responsib´All Day.
For more information, please visit:
https://rd17.pernod-ricard.com/